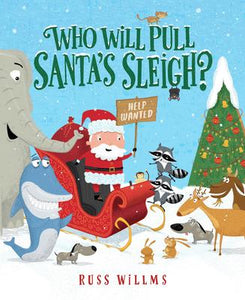 Farmer & Daughter Workshop
Who Will Pull Santa's Sleigh? - Russ Willms
Regular price
$24.99
$0.00
Unit price
per
Canadian Author
Picture Book
Many animals want to audition to pull Santa's sleigh and deliver toys to children around the world. But can anyone actually get the job done? This hilarious, behind-the-scenes story about Santa's reindeer crew is perfect for fans of Santa Claus: The World's First Toy Expert and Olive, the Other Reindeer.

It's Santa's first Christmas, and he needs to find the perfect team to pull his sleigh so he can deliver gifts to children around the world.

All sorts of animals answer his ad: SLEIGH PULLERS WANTED! But sloths are too slow, bunnies are a bit bouncy, and no one seems quite right for the job. Who can Santa turn to?

This funny, festive tale of teamwork is a perfect addition to your picture book library this holiday season!
---